Introducing the Samyang AF 24mm F1.8 FE Full Frame Lens
Author: Maxxum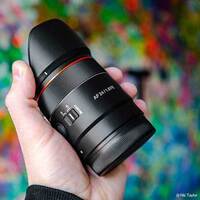 Introducing the Samyang AF 24mm F1.8 FE Full Frame Lens, with Amazing New Astrophotography Features!
Samyang has just announced the latest addition to their Tiny Series lens line-up with the introduction of a new AF 24mm F1.8 FE large-aperture wide-angle prime lens, for Sony full-frame E mount cameras. The lens is both tiny and lightweight to suit Sony's smaller compact camera systems.
The Samyang AF 24mm F1.8 FE weighs only 230g/8oz and measures just 71mm/2.79 in length. It has a 9- bladed iris, 58mm filter thread, 87.3deg wide-angle field of view, and a close focus distance of just 0.19m/0.62ft.
NEW Infinity Focus Feature for Astrophotography
The AF 24mm F1.8 FE lens features a new function titled "CUSTOM MODE" made specifically for astrophotography. This mode is operated through the newly designed FOCUS HOLD button. The function allows you to move the focus directly to infinity, by clicking the button when entering the mode.
Since the factory default infinity value may differ slightly depending on each camera body, you can also recalibrate and save a different more precise infinity focus value if you need to. The lens also features a LED light to indicate focus value accuracy.
This function should prove extremely handy for astrophotographers that want a quick way to lock in their infinity focus in dark environments without having to recalibrate often.

Large Aperture, Superb Resolution and Sharpness
Samyang's latest optical technology allows this large-aperture, wide-angle prime lens to achieve stunning corner-to-corner resolution, even at its maximum F1.8 setting. A total of 11 elements in 8 groups, with 7 special lenses (2 ASP, 3 HR, 2 ED) delivers awesome images with minimised spherical aberration and coma, perfect for astrophotography and landscape scenes.
The AF 24mm F1.8 FE has a fast F1.8 aperture for crisp focus and beautifully blurred backgrounds. It gives you full control over depth-of-field so that you can isolate your subject from the background. The 9-blade circular aperture contributes smooth, creamy, natural-looking bokeh.
Even More Features?
The beautifully designed matte finish with laser-engraved font provides better readability, and the tactile mounting index adds to the overall useability. Also featured is weather sealing in 5 locations to protect from dust, light rain and snow, and provide the ability to capture stunning images in less than perfect conditions.
Autofocus is now expected to capture images accurately and quickly, but it also needs to be quiet and smooth. The AF 24mm F1.8 FE features the latest STM (Stepping Motor), and this allows a larger and heavier focus lens group to be controlled more quietly and precisely.
The new FOCUS HOLD button can be customised, allowing the user to assign other desired functions through the menu settings on the camera body. These can include focus hold, eye autofocus and more. As with previous releases, Samyang's CUTSOM SWITCH can be customised to access functions such as Aperture Control Mode or MF Mode. More functions will be added through firmware updates in the future.
More details about the new features can be found at www.samyanglens.com
Stay tuned to our social media channels for updates on when Australian stock of this lens will be ready to ship. PREORDER THE SAMYANG AF 24MM F1.8 FE LENS HERE
Samyang Optics Australia:
Facebook https://www.facebook.com/samyangopticsau
Instagram https://www.instagram.com/samyang_australia
Maxxum Pty Ltd
Facebook https://www.facebook.com/maxxumau
Instagram https://www.instagram.com/maxxum.pty.ltd
---
Leave a comment