ROB EMBURY - Pale Blue Dot Photography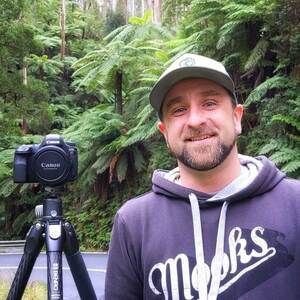 Photographer
Rob Embury is a landscape, weather and nature photographer based in Melbourne, Australia. He's always been a huge nature nerd, with a particular love for the sky. His goal in photography is to capture scenes that inspire people to witness something they haven't seen or noticed before and to hopefully find the same beauty in nature as he does.
A passion (or some may say obsession) for photographing severe weather has seen Rob chasing storms all around Australia as well as the USA's famed Tornado Alley. He has featured in a number of publications including Australia's popular Bureau of Meteorology Weather Calendar.
In addition to his own work, Rob facilitates local and international group photography workshops, photography tours and 1-on-1 tuition covering everything from photography basics through to specific skills like astrophotography. He loves passing his knowledge on to others and showing people how he likes to shoot some of his favourite locations and scenes.
Email: rob@palebluedotphotography.com.au
Website: https://www.palebluedotphotography.com.au/
Instagram: https://www.instagram.com/rob_palebluedotphotography
Facebook: https://www.facebook.com/palebluedotphotography/
Twitter: www.twitter.com/robemburyphoto
Youtube: https://www.youtube.com/robembury
Ambassador Products: Benro/Samyang/Tenba/Jupio/Haida/Boya
Style: Landscape, Weather, Nature, Photography Tours & Workshops
Location: Melbourne, VIC
---
Leave a comment