The all new Samyang AF 24mm F1.8 FE Lens for Sony E-Mount Cameras
Author: John Riley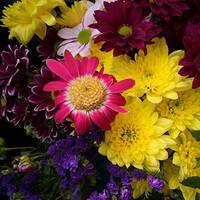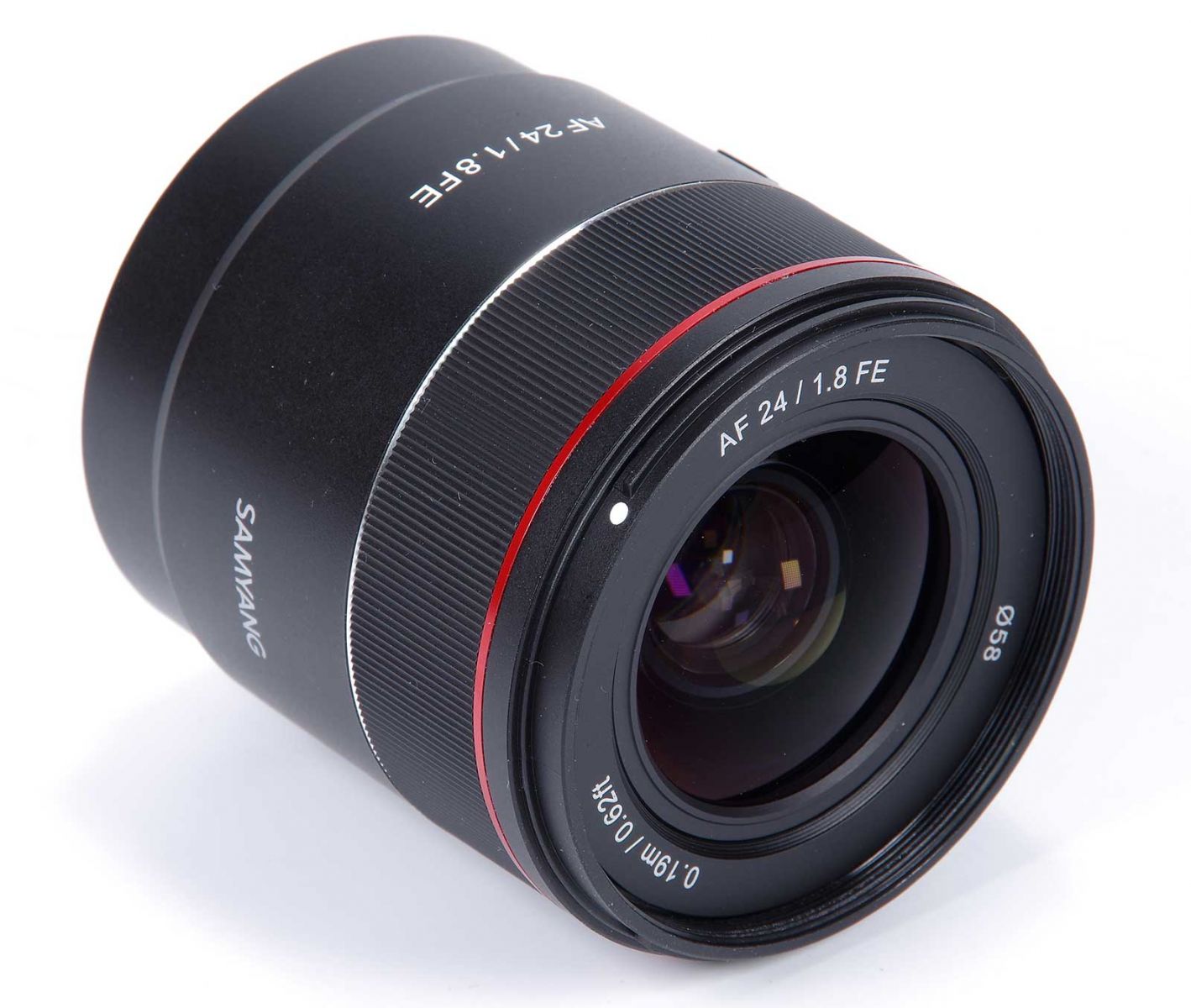 Samyang now have an impressive range of AF lenses for Sony mirrrorless cameras. Here we have the latest one - the full frame Samyang AF 24mm F1.8 FE. This joins the other compact F1.8 lenses of 35mm, 45mm and 75mm lenses. The new 24mm is especially targeted at, but of course not exclusively for, landscape and astrophotography. In common with the other lenses in the set, the 24mm is compact, light and also weather sealed, ready for the outdoors. Let's take the Sony Alpha A7R III 42MP body and run the new lens through its paces and see what it can do.
Samyang AF 24mm F1.8 FE Handling and Features
The lens is devoid of any unnecessary embellishment, offering a compact and light optic that weighs in at just 230g. There is a provided petal lenshood that bayonets cleanly into place and shows no tendency to become dislodged. Within the bayonet fit for the hood is a standard 58mm filter thread, usefully the same size at the previously tested Samyang AF 75mm F1.8. lens. 24mm and 75mm could be a very viable lens set for a wide variety of subjects. The lens is an excellent match for the Sony A7R III and other bodies.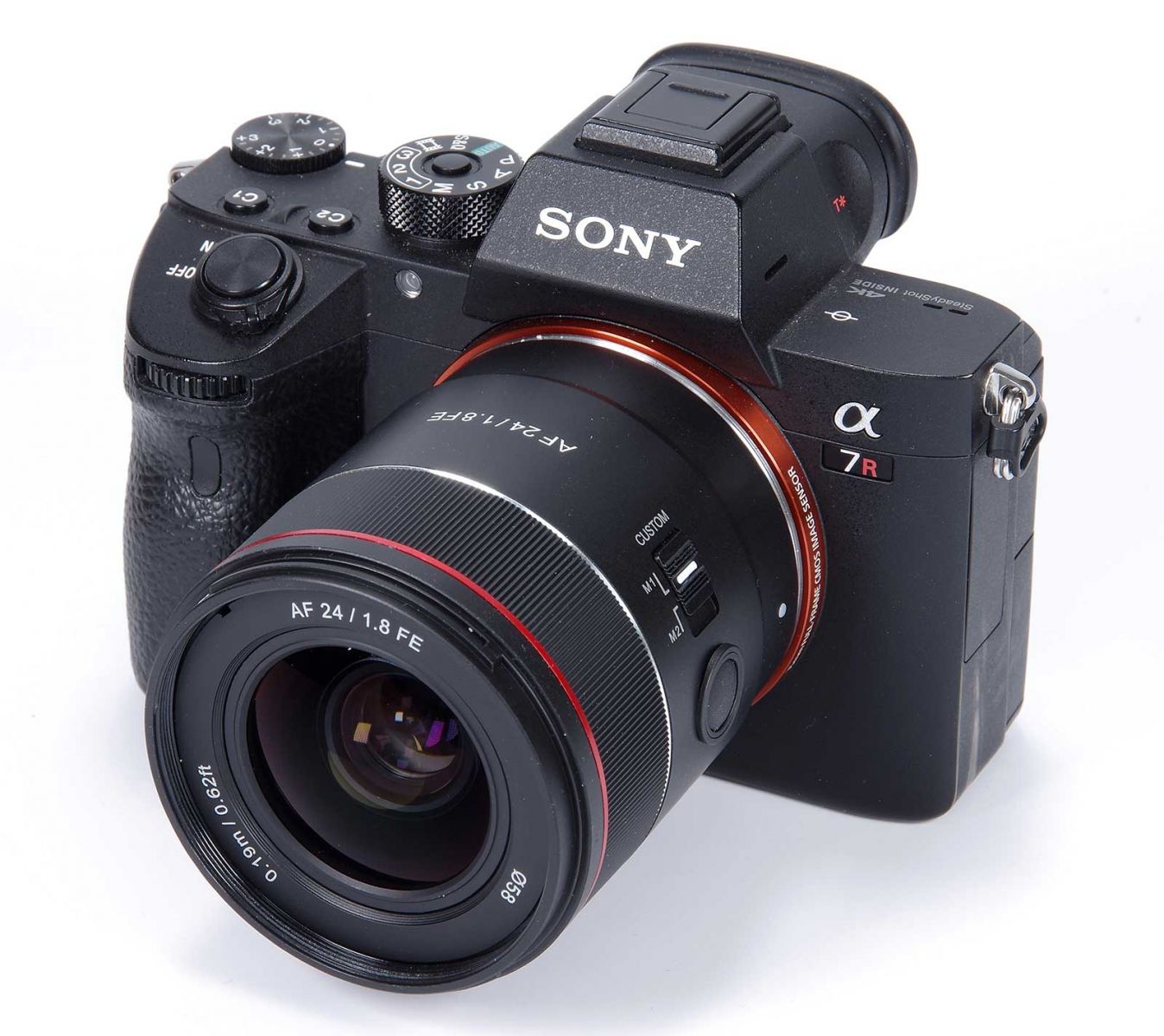 Starting our tour of the rest of the lens, there are very few controls. The reasonably wide control ring is electronic, and therefore as smooth as we would expect. Its function is controlled by the custom switch, adjusting focus in Mode 1 (when focus mode is set to DMF for manual tweaks in AF or, of course, MF) and aperture in Mode 2. The aperture and STM motor for AF are virtually silent in operation. Focusing is down to 0.19m or 0.62 feet, giving a maximum magnification of 0.21x.
There is also a focus lock button provided and an LED that provides confirmation that infinity focus is achieved when doing astrophotography. This gives useful confirmation in the dark whilst not interfering with the exposure itself. To use this function, the custom button is held whilst the camera is switched on, the LED lights red while the lens is moved to infinity and then turns green when infinity focus is achieved. This happens very quickly and is a sure way of ensuring that astrophotography images are shot at infinity. The button can also be assigned to other focus distances or functions if desired, from within the camera menus.
The quality of the metal mount is excellent and the lens mounts smoothly and securely onto the camera. There is no rotational play when the lens is in position.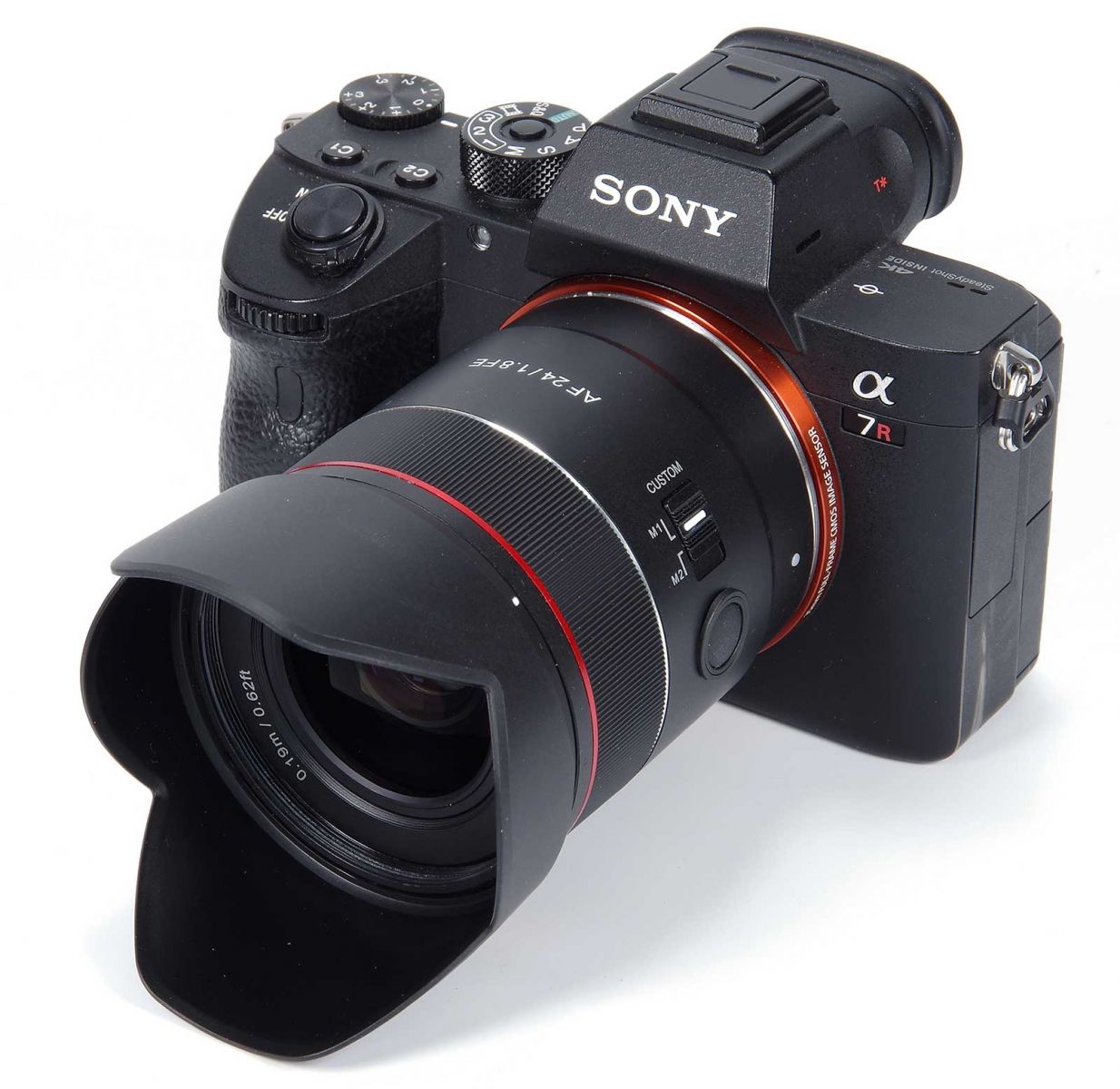 Optical construction is 11 elements in 8 groups, including 2 Aspherical, 3 HR (High Refractive Index) and 2 ED (Extra Low Dispersion).The diaphragm comprises 9 rounded blades for optimum bokeh. Finally, Samyang's well established UMC coating technology ensures resistance to flare. Weather sealing ensures that the lens can be happily used outdoors in more challenging weather conditions, defined by Samyang as resistance to dust, light rain and snow.
A 24mm lens is a highly versatile focal length, now approaching into the realm of the ultra-wide but being more versatile and easier to handle. Although the primary motivation for this lens is astrophotography and landscape, 24mm is equally suitable for street/reportage, architecture and interiors. Close ups are facilitated by the relatively close focus. This new lens also joins a small but growing sub-group of Samyang full frame lenses for Sony mirrorless cameras, also including 35mm, 45mm and 75mm, all with maximum apertures of F1.8. This is a compelling selection that covers a vast area of possibilities.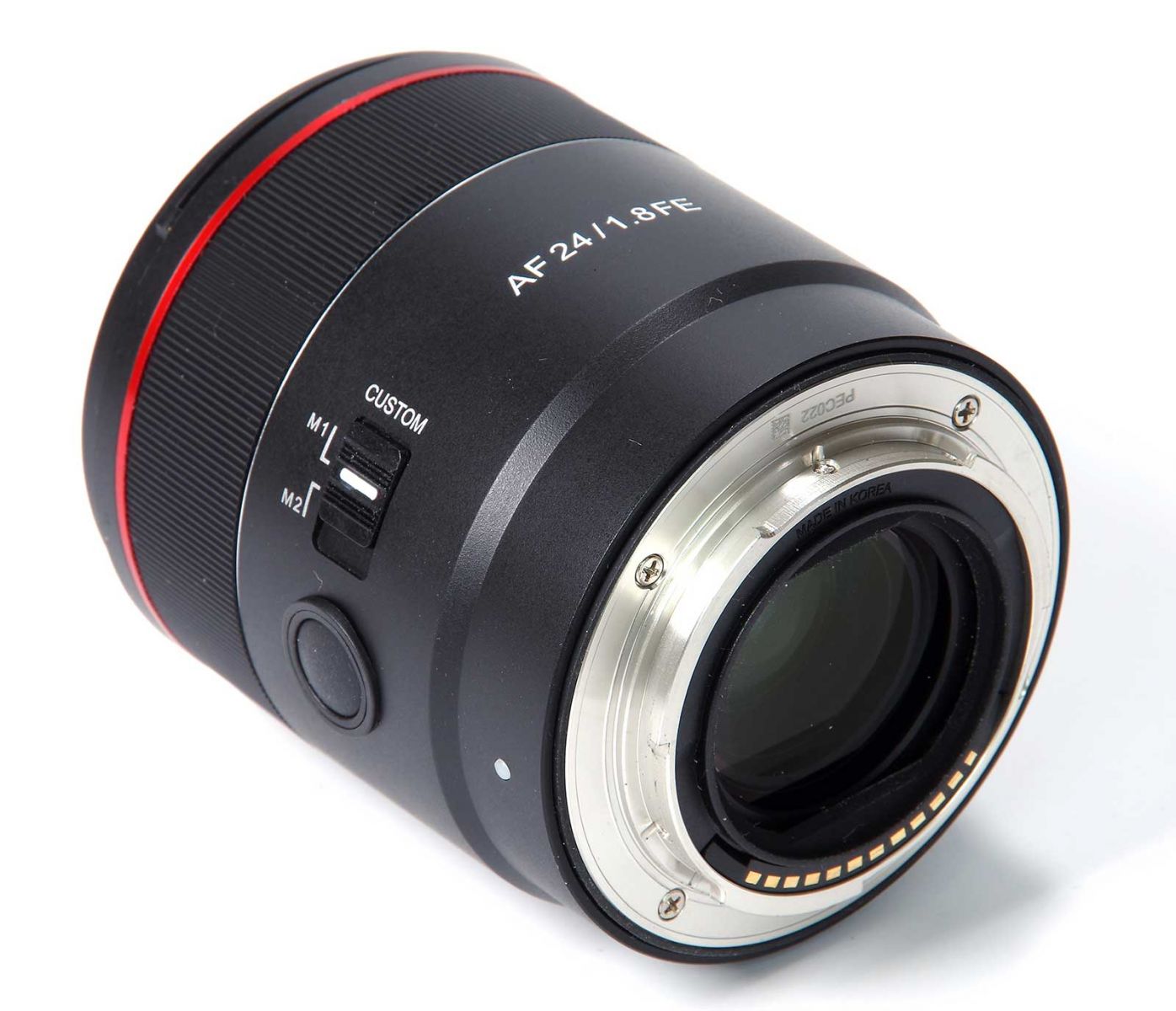 It is also worth mentioning that the lens can be mounted on Sony APS-C "crop format" mirrorless cameras, where it has a "35mm format equivalent" of 36mm. Although it is a bit out of proportion in terms of size it is not excessively so and would be usable without unbalancing the smaller cameras.
In summary, a very satisfactory lens in terms of handling and functions, a real pleasure to use; light and compact as well. Now let's look at the performance and see if that lives up to its promise.
Samyang AF 24mm F1.8 FE Performance
Central sharpness is excellent at F1.8, outstanding from F2 to F4, excellent from F5.6 to F11 and very good at F16 and F22. The edges are excellent from F1.8 all the way through to F8, very good at F11 and F16 and good at F22. This is a superb performance and leaves little to be desired.
Samyang AF 24mm F1.8 FE MTF Charts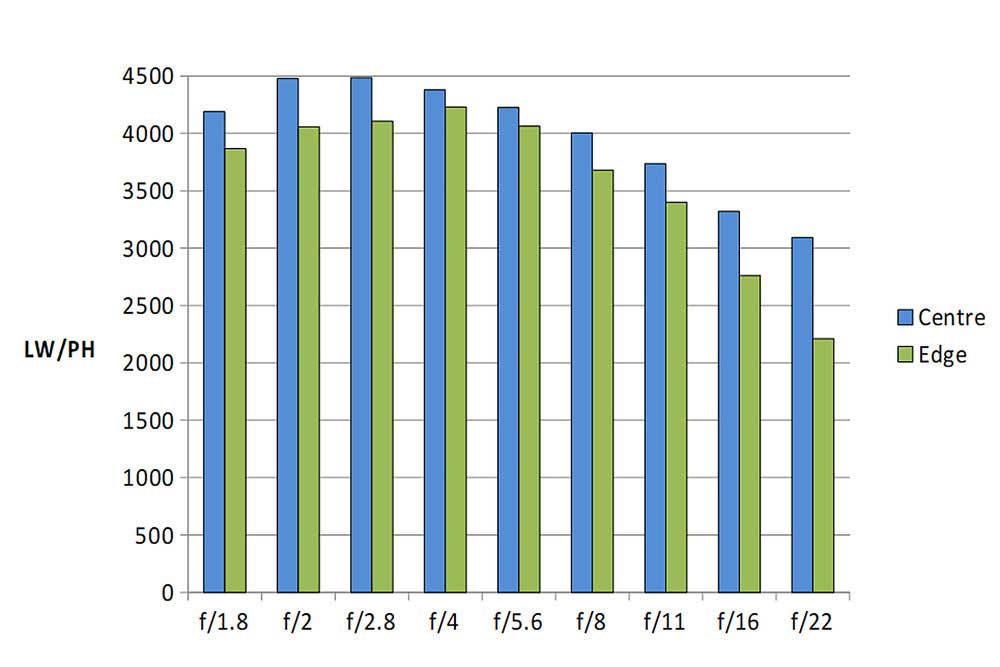 How to read our MTF charts
The blue column represents readings from the centre of the picture frame at the various apertures and the green is from the edges.
The scale on the left side is an indication of actual image resolution and sharpness as LW/PH and is described in detail above. The taller the column, the better the lens performance.
For this review, the lens was tested on a Sony Alpha A7R III using Imatest. Want to know more about how we review lenses?
CA (Chromatic Aberration) is present both centrally and at the edges but is not generally visible in most images. It may be that we would wish to switch in corrections for astrophotography and other highly critical work, but the performance is generally sound and fringing is not noticeable on most subject matter.
Samyang AF 24mm F1.8 FE Chromatic Aberration Charts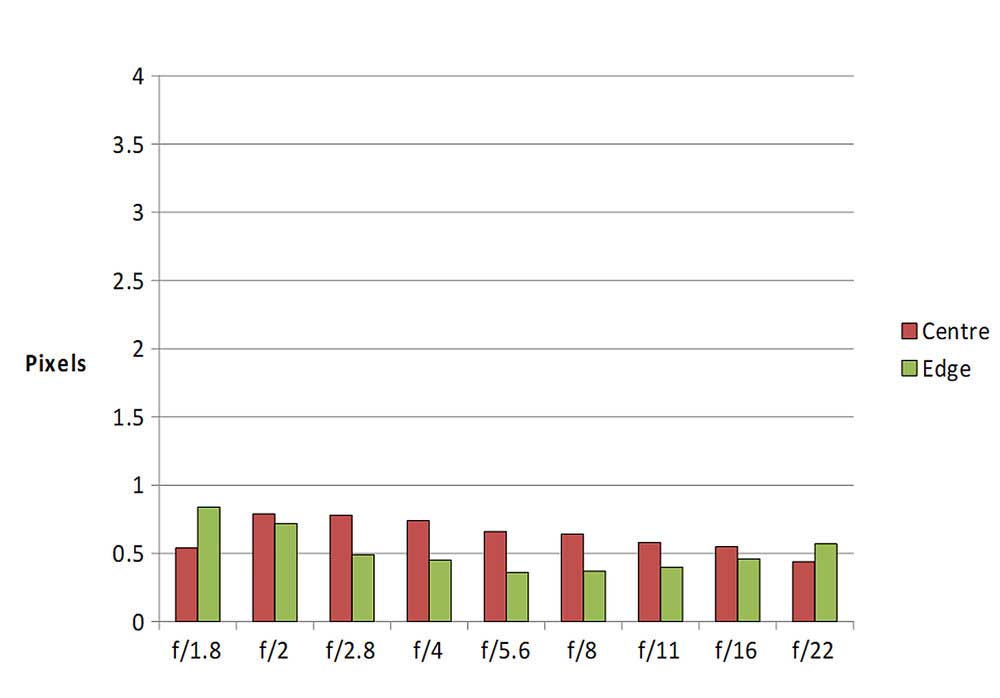 How to Read our CA charts
Chromatic aberration (CA) is the lens' inability to focus on the sensor or film all colours of visible light at the same point. Severe chromatic aberration gives a noticeable fringing or a halo effect around sharp edges within the picture. It can be cured in software.
Apochromatic lenses have special lens elements (aspheric, extra-low dispersion etc) to minimize the problem, hence they usually cost more.
For this review, the lens was tested on a Sony Alpha A7R III using Imatest.
Barrel distortion measures at -2.09%, what we expect from ultra-wide lenses, but really quite acceptable as it stands. If necessary, corrections can be switched on in-camera or adjusted in software.
Bokeh, the smooth gradation of the out of focus areas in an image, is not the main consideration for much of the work done with a 24mm lens, but here the circular aperture and lens design both contribute to an excellent end result. The bokeh is smooth and pleasant and provides an attractive backdrop to the main subject.
Flare is virtually non-existent and even in the most challenging situations there is no obvious loss of contrast, nor are there any artefacts. Samyang's UMC coating is clearly highly effective.
Vignetting is there to be seen, but not excessive and as always with the caveat that some corner darkening can be a benefit for wide angle lenses. If it needs to be corrected, then in-camera adjustments or software are there to do the job.
The vignetting results:
| | |
| --- | --- |
| Aperture | Vignetting |
| F1.8 | -2.3 stops |
| F2 | -1.8 |
| F2.8 | -1.5 |
| F4 | -1.5 |
| F5.6 | -1.5 |
| F8 | -1.5 |
| F11 | -1.5 |
| F16 | -1.5 |
| F22 | -1.5 |
Samyang AF 24mm F1.8 FE Aperture range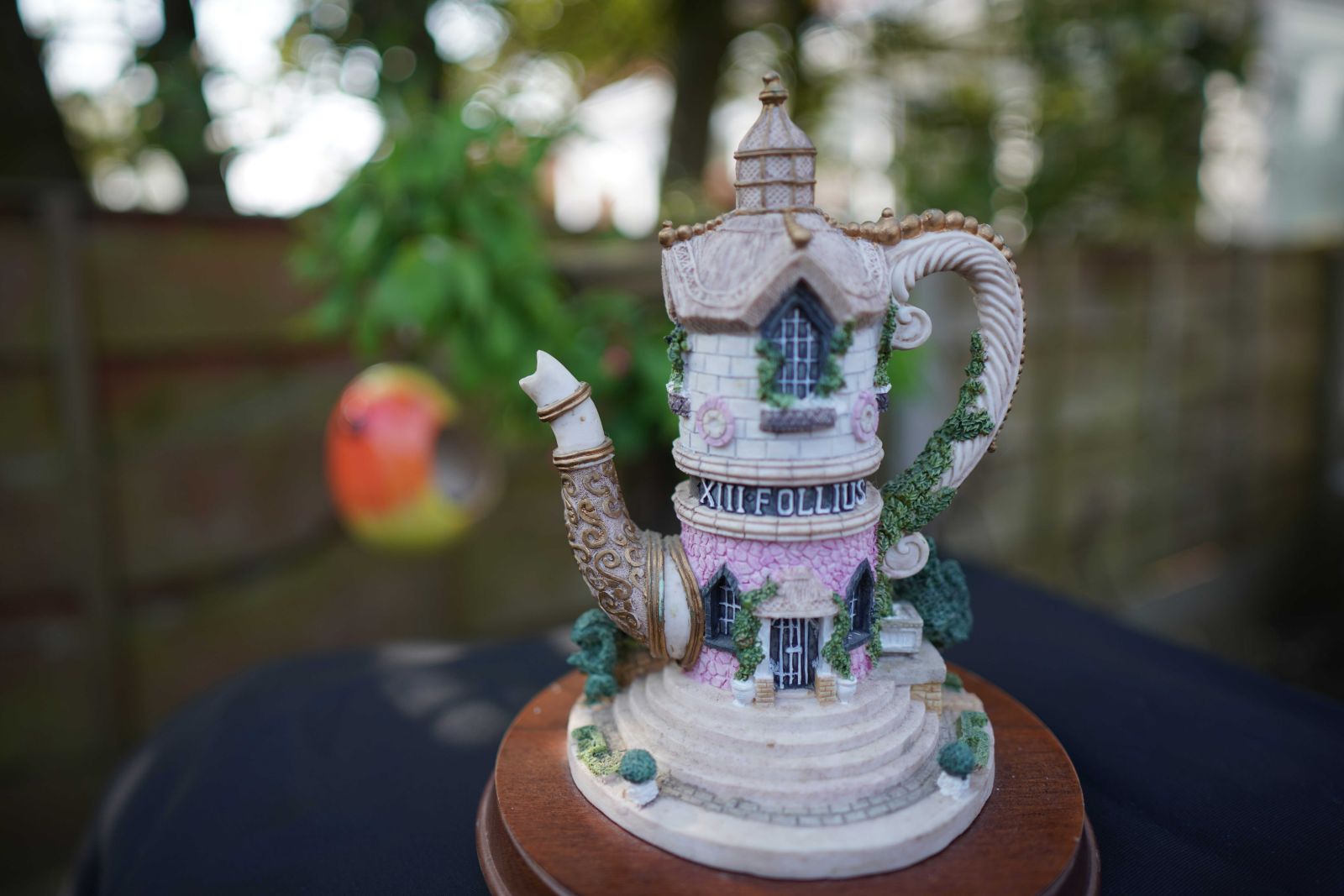 Samyang AF 24mm F1.8 FE Verdict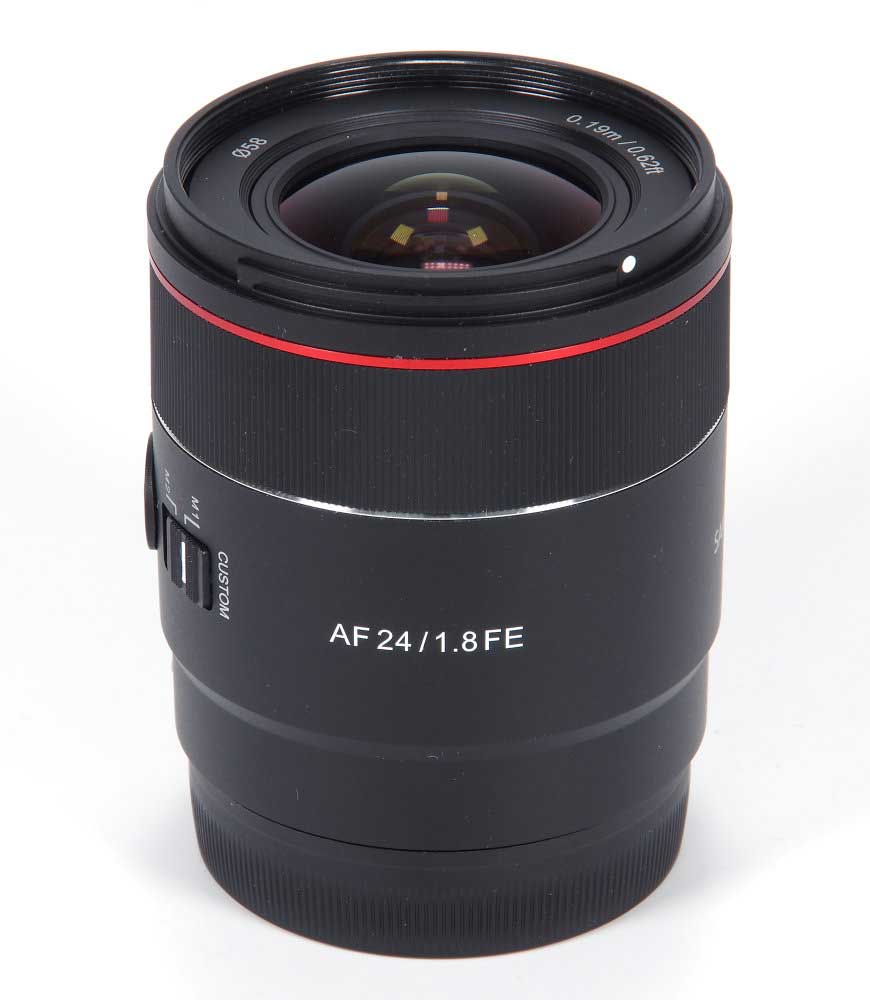 The lens is compact, light offers superb sharpness and lovely bokeh. What's not to like about such an optic? There are some signs of CA and some barrel distortion, not too excessive and correctable anyway in-camera or in software. The 24mm focal length is just so useful, not only for astrophotography and landscapes but the whole gamut of traditional ultra-wide applications such as street, architecture, interiors and much more. For many years I used mainly 24mm and 100mm lenses as a mainstay of my own photography. We can add to that a small range of matching F1.8 primes that complement the 24mm perfectly as a set.
The performance is superb, the price is right, the handling is superb. An obvious win for the Samyang AF 24mm F1.8 FE lens and an Editor's choice from us.
Samyang AF 24mm F1.8 FE Pros
Outstanding central sharpness
Excellent edge sharpness
Virtually silent AF and aperture
Light and compact
Lovely bokeh
Very well made
Weather sealing
Custom button for astrophotography
LED indicator for infinity lock
Superb flare control
Samyang AF 24mm f/1.8 FE Cons
Some CA, correctable
Some barrel distortion, correctable
Samyang AF 24mm f/1.8 FE Specifications
Manufacturer
Samyang
General
Lens Mounts

Sony E Mount
Sony FE Mount

Lens
Focal Length
24mm
Angle of View
83.7°
Max Aperture
F1.8
Min Aperture
F22
Filter Size
58mm
Stabilised
No
35mm equivalent

No Data

Internal focusing
Yes
Maximum magnification
0.21x
Focusing
Min Focus
19cm
Construction
Blades
9
Elements
11
Groups
8
Box Contents
Box Contents

No Data

Dimensions
Weight
230g
Height
71mm
---
Leave a comment