WARREN KEELAN - Ocean Photographer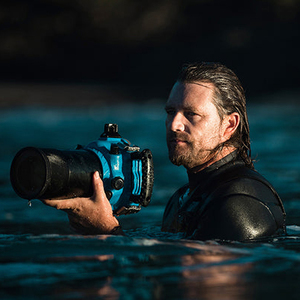 Photographer
Warren Keelan is a seascape and ocean photographer living on the South Coast of New South Wales, Australia. He spends most of his days alongside or within the ocean, interpreting what he sees through the medium of digital photography.
Warren has always had a fascination with nature, especially the ocean and its ever-changing forms, and he is compelled to capture and share what he feels is special and unique moments in the sea. He loves the raw, unpredictable nature of water in motion and the way sunlight brings it all to life, from both above and below the surface. For Warren, the challenge is creating an image that hopefully tells a story or leaves an impression on the viewer.
In 2013, Warren opened his first photo gallery in Wollongong where he feels extremely privileged to be able to showcase and sell his printed works to both local and international clients."
Warren Keelan is a multi-international award-winning seascape and ocean photographer based in the Illawarra South Coast region of NSW, Australia. His images have been awarded highly in the prestigious photographic competitions: International Landscape Photographer of the Year, International Photo Awards, International Monochrome Awards, Epson International Pano, Siena International & International Loupe Awards and has received local and international recognition via TV, radio & newspapers.
Email: sales@warrenkeelan.com
Website: www.warrenkeelan.com
Instagram: https://www.instagram.com/warrenkeelan/ or https://www.instagram.com/vagabondphotographic/
Facebook: https://www.facebook.com/warren.keelan
Ambassador Products: Tenba/Benro
Style: Beach, Landscape & Travel
Location: Wollongong, NSW
---
Leave a comment