Check out the exciting new Samyang AF 135mm f1.8 FE lens!
Author: Nic Taylor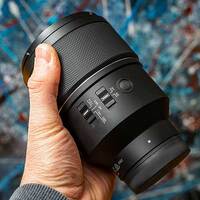 Samyang kick off another new year with another exciting new lens, the AF 135mm f1.8 FE. I was excited to get my hands on and try out this new lens, as it's a focal length quite a way outside my usual focal length range for the type of work I shoot. I normally shoot with the 50mm, 75mm or my macro lenses which are 90mm and 100mm. Why do I shoot with two macro lenses that have very similar focal lengths, I hear you ask. Well, the 100mm has 2:1 magnification, so is very useful to get some seriously close up shots with incredible details. Although I must say I hardly ever use that feature - I digress. I also own a 70-200mm, but I cannot remember the last time I took that to a commercial shoot, so shooting with this 135mm lens would kind of take me out of my comfort zone and make me think differently while shooting with it.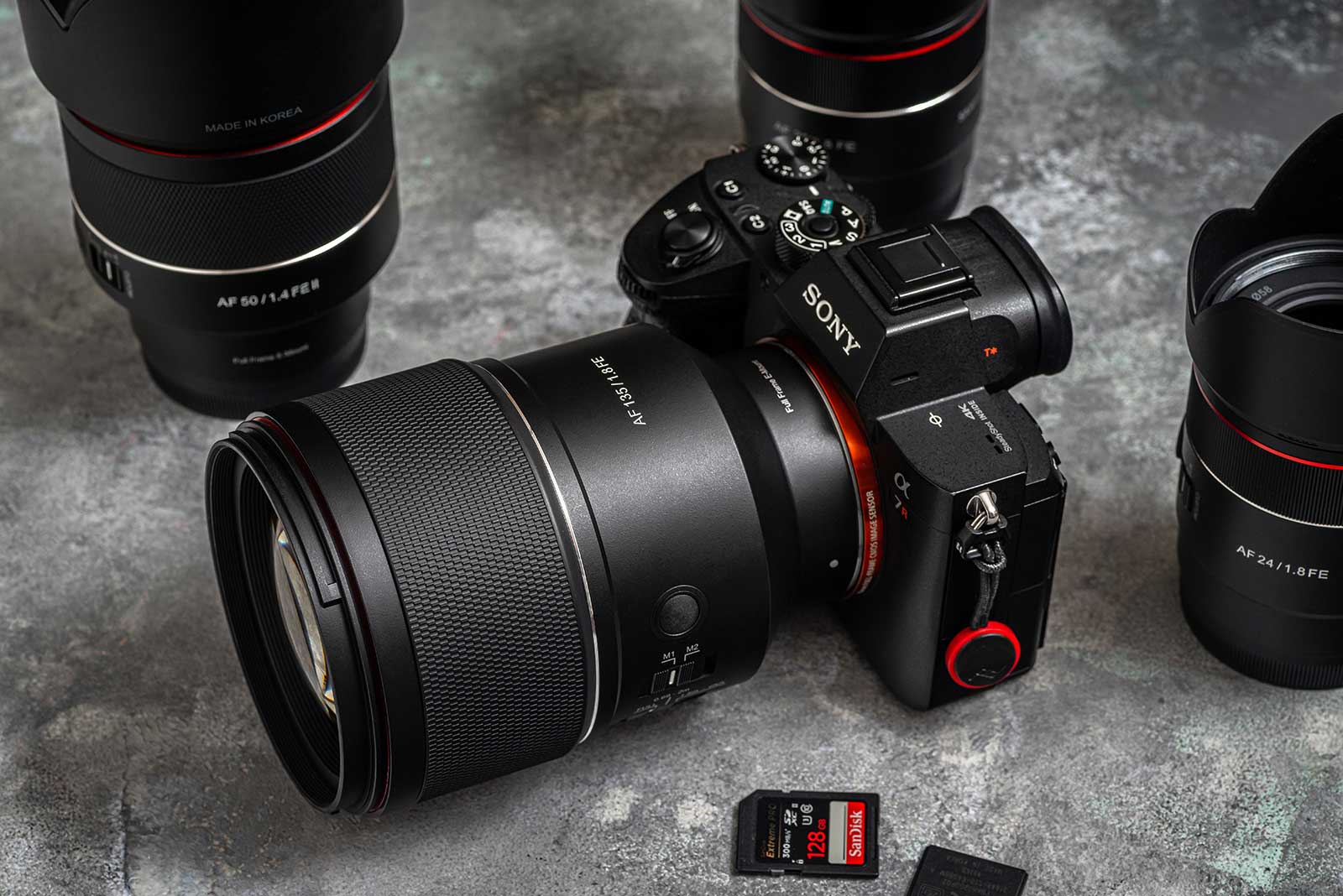 Samyang AF 135mm f1.8 FE mounted on my Sony A7RIII
The original (manual focus) 135mm f2 lens from Samyang was released back in 2015 and is rated highly amongst portrait photographers and astrophotographers in terms of bang for buck performance. It was always a very capable lens, and I've seen numerous stunning images captured using it. It's not a lens that I've used, however. This new lens is a completely new design and construction but adds auto-focus and an extra third of a stop of light to the maximum aperture.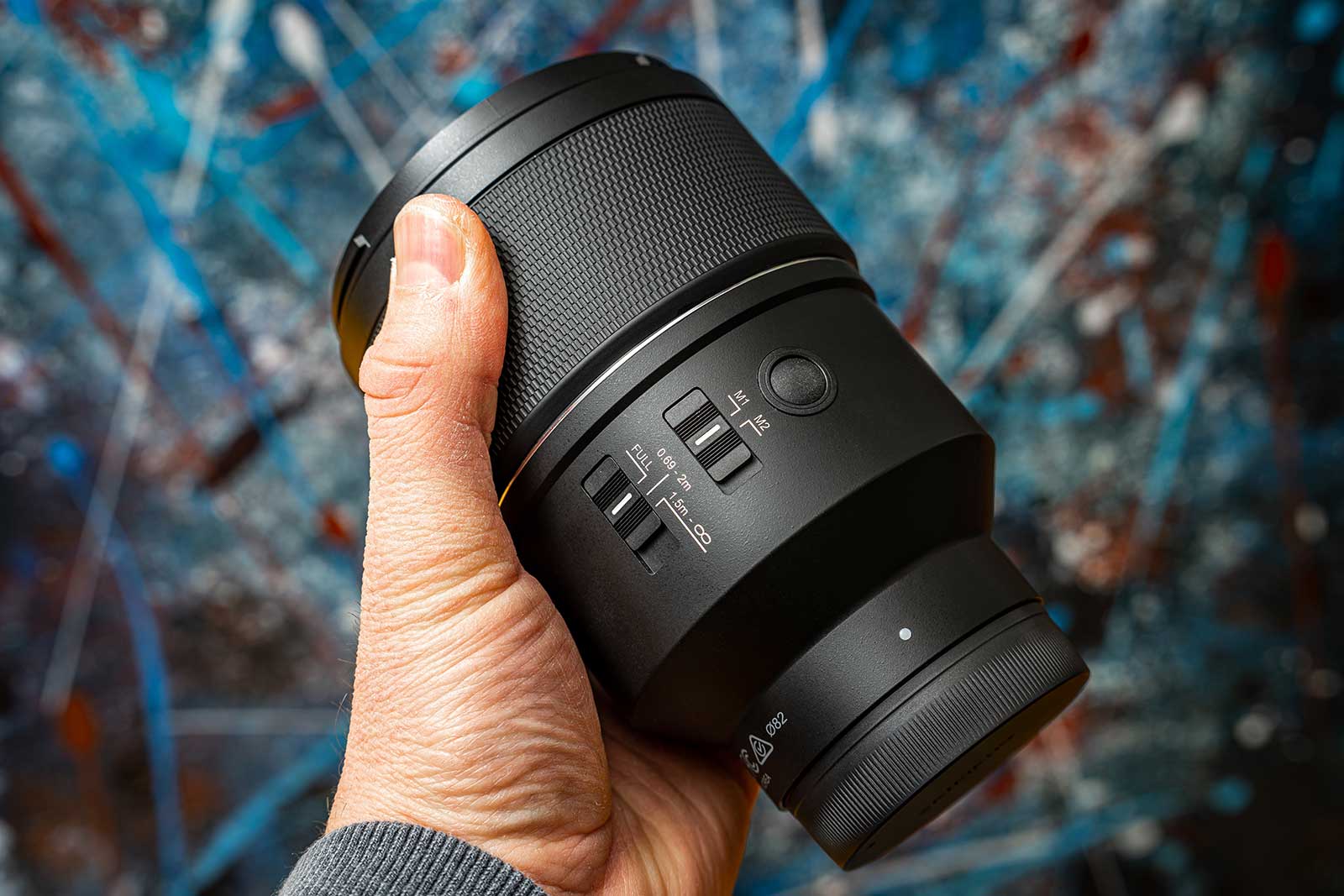 Size in hand (as you can see, it's quite a large lens)
Features:
Build quality is on par with Samyang's other AF lenses, with the main construction being made of high-quality plastics and a reasonable weight (for this type of lens) that feels good in hand when mounted to my camera with added battery grip. It comes with a lightweight cylindrical type lens hood which has a bit of a rubbery coating around the front edge. It features a focus hold button, a custom switch (featured on the last few new Samyang lenses which allows adjustment of aperture via the large focus ring) and also a focus limiter switch, a first on Samyang lenses. In addition to a feature first debuted by Samyang on their AF 24mm f1.8 lens released last year, this lens also has the Astro Focus mode which when activated the lens will automatically move to the infinity position after the LED has blinked once. This is a feature I haven't tested as where I'm based in the UK I have found it difficult to get good astro images due to light pollution and poor weather conditions at this time of year.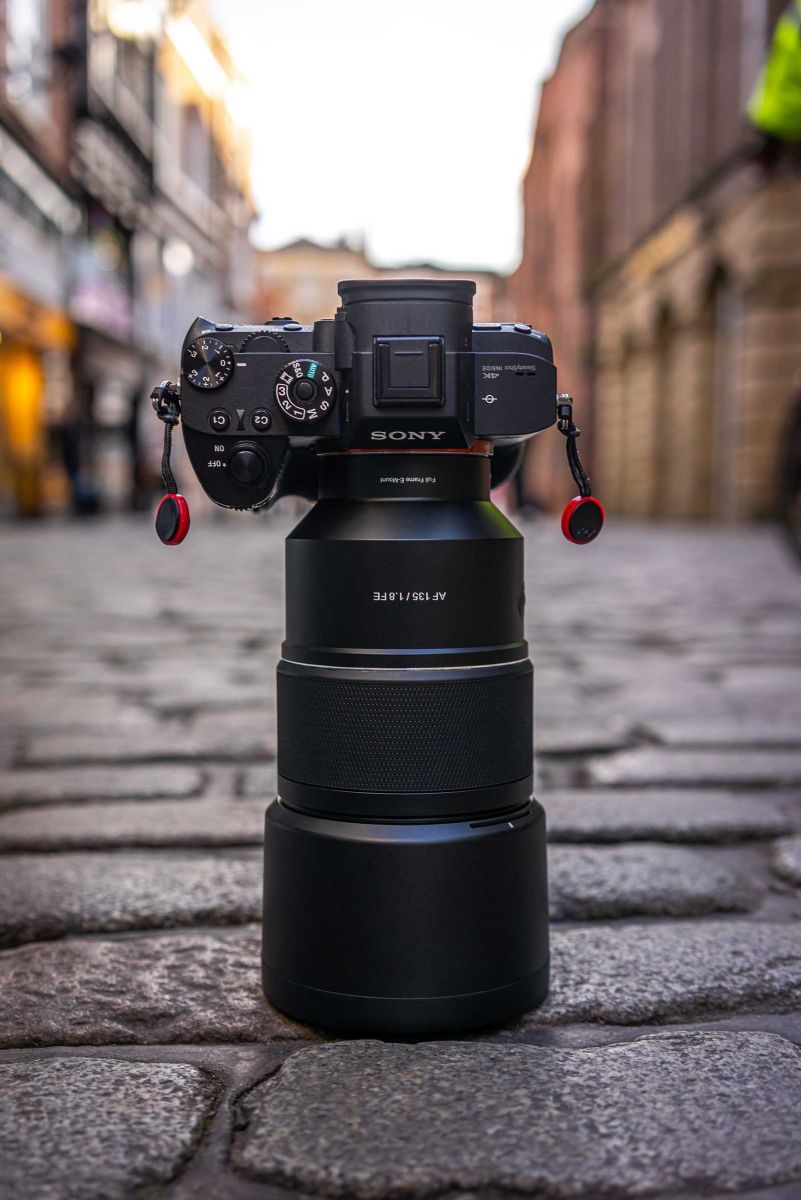 Samyang AF 135mm f1.8 FE with lens hood mounted on my Sony A7RIII
Specs
The lens has an aperture range from f1.8 up to f22 with 11 aperture blades, which make the lens capable of producing images with that beautiful, buttery Bokeh (out of focus parts of the image). It features a minimum focusing distance of just 69cm (from subject to sensor) which is quite close for a lens of this type and allows you to really fill the frame with your subject and get some nice close-up shots with that awesome smooth bokeh that will really separate your subject from the background. This will work great for me shooting food. It features a complex construction of 13 elements in 11 groups. Three of which are extra low-dispersion lenses, two high refractive lenses and an ultra-precision aspherical lens which all help control chromatic abberation enabling the lens to produce stunningly sharp images with beautiful colour rendition. It has weather sealing to protect the lens from light rain and dust and the front of the lens features an 82mm filter thread. The lens takes advantage of Samyang's fast and quiet Linear Stepping Motor (STM) to minimize focus breathing when focusing from close-up all the way through to infinity.
Comparing it to the competition
The Samyang AF 135mm weighs in at 772g which is quite a bit lighter than the Sony 135mm f1.8 G-Master at 950g and much lighter than the Sigma 135mm f1.8 ART which is 1130g. Size-wise, it's very similar to the Sony G-Master but the Sigma is a little larger. When it comes to pricing the Samyang as usual offers a fantastic product for a relatively low price when compared to it's competitors. The Samyang has an RRP of just £799. The Sigma is quite considerably higher priced at £1199 and the Sony G-Master comes in at a pocket-emptying £1599 (twice the price of the Samyang). I doubt very much that the Sony would offer twice as good performance for that money.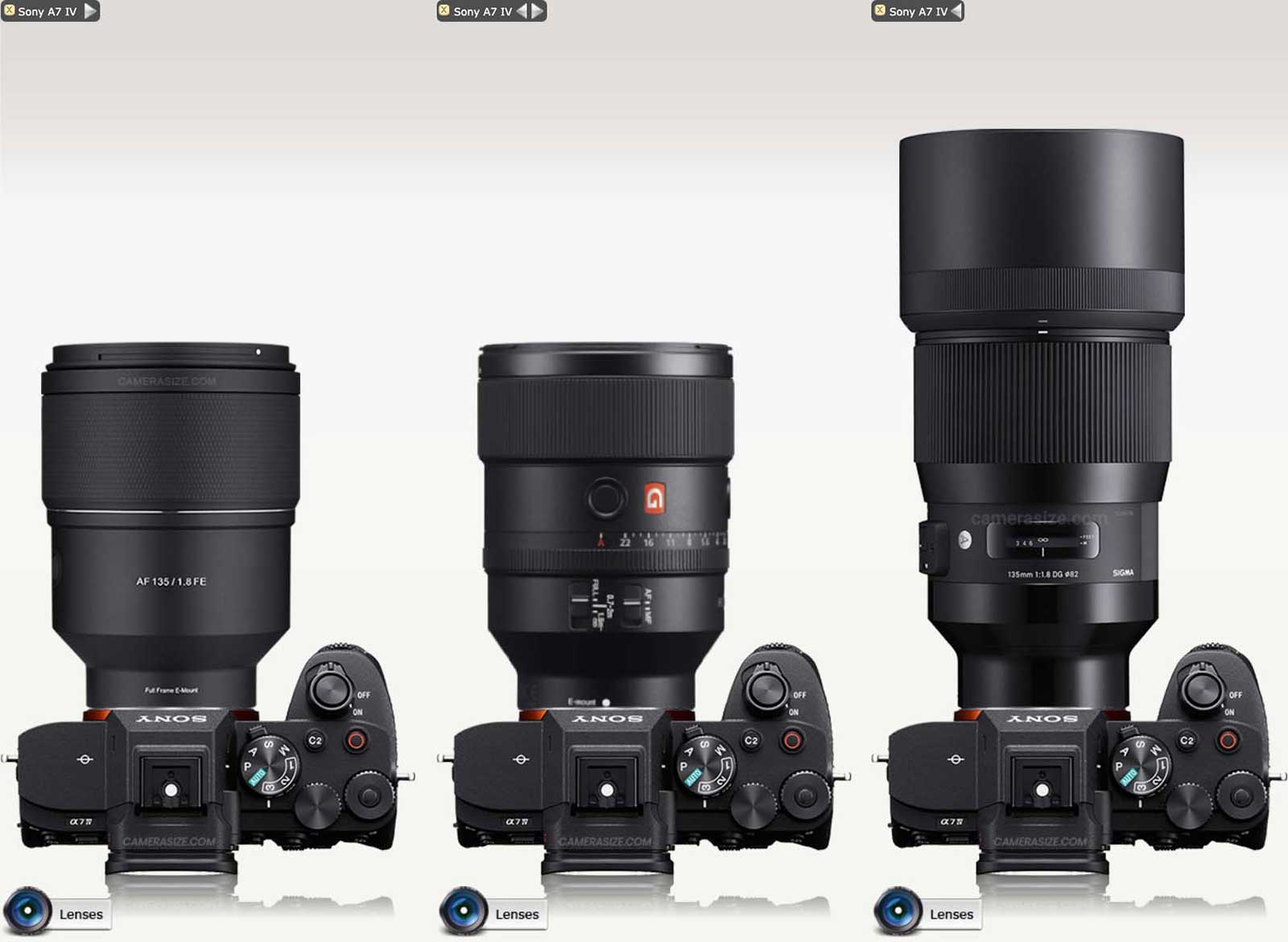 Size comparison taken from Camerasize.com comparing the new Samyang, Sony G-Master and the Sigma ART 135mm lenses (notice that the Sigma has the lens hood attached in this comparison whereas the other two lenses are pictured without.
Conclusion
During my relatively short time with this lens up to the point of publishing this short review, I thoroughly enjoyed using this beautiful piece of glass. It's quite a lot larger and heavier than the lenses I'm used to shooting with, but then again it's totally different from the lenses I tend to gravitate towards for my day-to-day work. It also produces a different look as it compresses the images a lot more and separates the subject from the background even at quite narrow apertures (depending on distance from subject), whereas wider focal length lenses would have more in focus at the same aperture. Autofocus performance is very good on this lens. I love that you can toggle the focus limit depending on how far your subject is away from you (a feature I have on one of my macro lenses). Images are sharp, and I like how you can get in close and shoot some really nice detail shots, which is perfect for the sort of work I shoot. In terms of price point for Samyang lenses it's certainly one of the most expensive AF lenses, but you're getting a lot of lens for your money especially when you take a look at the prices of its competitors then it makes it a no-brainer.
Sample images shot with Sony A7RIII (click to enlarge):
Article by Nic Taylor
https://nictaylorphoto.blogspot.com/2022/03/samyang-af-135mm-f18-fe.html
---
Leave a comment