JUPIO POWERBOX 500
The Jupio PowerBox 500 with rated power of 500W, it is the ultimate solution for all your energy needs. This portable power station is designed with the latest lithium iron phosphate (LiFePO4) chemistry to deliver safe and reliable energy when you need it the most. The LiFePO4 chemistry provides several benefits over other battery chemistries, making this power station the ideal choice for outdoor enthusiasts, travelers, and anyone who needs a portable power source.
One of the key benefits of LiFePO4 chemistry is its safety. Unlike traditional lithium-ion batteries, LiFePO4 batteries are extremely stable and have a low risk of thermal runaway. This means you can use the PowerBox 500 with peace of mind, knowing that your devices are protected. LiFePO4 batteries are also more environmentally friendly, as they contain no toxic materials, making them a great choice for those who are eco-conscious. In addition to its safety and environmental benefits, LiFePO4 chemistry provides longer lifespan and higher cycle stability compared to other battery chemistries. This means you can enjoy reliable and consistent performance from your PowerBox 500 for years to come. In fact, we're so confident we're offering an unprecedented 3-year warranty!
With a 288Wh capacity, this power station delivers enough power to keep your devices charged and running for hours. Whether you're camping, tailgating, or simply need backup power during a power outage, this power station is the perfect solution. Featuring multiple output ports, including USB-A, USB-C, AC, and DC, power a wide range of devices, from smartphones and tablets to laptops and cameras. Need a light? The PowerBox 500 will carry the torch in the form of an integrated LED strobe and flashlight! A compact and lightweight design, the PowerBox 500 is easy to carry wherever you go. With its cutting-edge chemistry and wide range of uses, this is the ultimate energy companion for anyone who needs to stay connected and powered.
JUPIO SOLAR PANEL 60W
The Jupio SolarPower60 is our first step into the world of solar generated energy.
This solar panel has a maximum output power of 60 Watt with a conversion efficiency of ≥21%.
Included in the box are 2 cables that can be connected by MC4 connectors. Thanks to a variety of 4 different plugs (DC5521, DC7909, Anderson and XT60) this solar panel can be connected to a wide range of power stations such as the Jupio PowerBOX 500.
But it is also possible to connect the SolarPower60 directly to your smartphone or tablet thanks to the built-in USB-A and USB-C ports.
Just plug it in and your battery will be recharged by enjoying the sun.
With a weight of only 2500grams (2.5kg) The SolarPower60 is easy to carry and ideal for outdoor and camping use. It loves the sun, but does not mind some rain either thanks to the IP67 classification.
FEATURES
600% more battery cycles: LiFePO4 cells are safer, last longer, and are more environmentally friendly than their Li-Ion counterparts. Whether at home or on-the-go, you'll have a reliable source of backup power for many of your favorite electronic devices.
Lightning-fast recharge: Go from 0% to 80% state of charge less than an hour, 90 minutes total to get to 100%.
Everyone gets a port: A total of 7 output ports, you get 2x AC Output ports, 2x DC(5521) Output ports, 2x USB-C ports with PowerDelivery, and 1x USB-A ports with QuickCharge 3.0.
Lightest 500W Power Station in its Class: Power your essential devices with as much as 288 Wh capacity. At 5kg it is THE lightest 500W portable power station in its class.
Unprecedented 3-year warranty for a guaranteed hassle-free experience. Just clean, efficient power for all your needs.
SPECIFICATIONS: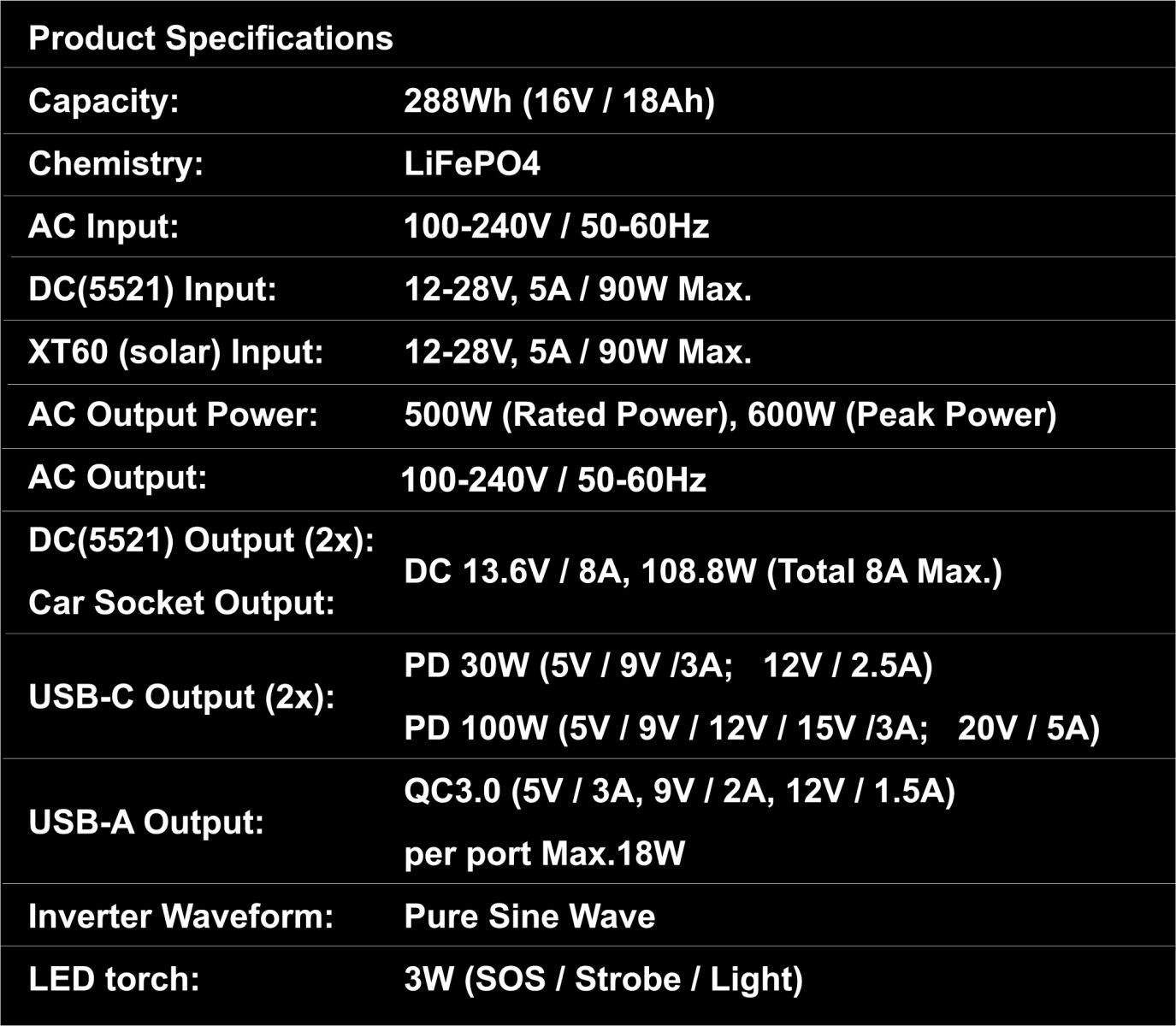 | | |
| --- | --- |
| Solar Cell Type | Monocrystaline Silicon |
| Cell Efficiency | ≥21% |
| Operating Voltage | 19.06V |
| Operating Temperature | -20 - 60°C |
| Open-Circuit Voltage | 24.12V |
| Output Port | MC4 (with a MC4 to XT60, Anderson, DC5521 and DC7909 cable) |
| USB-A Output | 5V-3A, 9V-2.5A, 12V-2A |
| USB-C Output | 5V-3A, 9V-3A, 12V-2A |
| Dimensions (Folded) | 42cm x 47cm x 5cm |
| Dimensions (Unfolded) | 84cm x 47cm x 2.5cm |
| Weight | 2.5kg |
| | |
| --- | --- |
| SKU | JSPJPBCOMBO |
| Brand | Jupio |
| Artist / Author | |
| Type | |
Be The First To Review This Product!
Help other Maxxum Pty Ltd users shop smarter by writing reviews for products you have purchased.