The Fast All-Rounder Zoom
Samyang AF 35-150mm F2-2.8 FE has a maximum aperture of F2 at the wide-angle end and F2.8 at the telephoto end, which covers the five main focal ranges (35/50/85/135/150). With the wide zoom range, the lens is marked as a fast and all-rounder zoom that covers a broad range of shooting, from portraits to travel shooting. Upgraded premium design and performance of 2nd Generation lenses are applied to the lens, and also it supports key features of recent Sony mirrorless bodies, including Hybrid AF, Eye AF, Direct Manual Focus (DMF), and AF assist function.
Covers everything from 35mm to 150mm Focal Length
Samyang moved a step forward with its innovative second-zoom lens. We will provide a more convenient user experience since AF 35-150mm F2-F2.8 is quite the unique lens in the market. The lens is remarkably versatile as an all-in-one lens with fast maximum apertures and provides a solution for photographers seeking to avoid lens changing. It was clearly designed for a portrait photographer, but the wide zoom range is also useful for everyone from commercials, various events and travel photographers.
Outstanding Resolution, even in corner-to-corner
Thanks to the latest optical design of 21 elements in 18 groups and featuring an optimal combination of 2 ASP, 2 ASP, 1 HB, 3 HR and 6 ED, the lens presents superior optical performance throughout the entire zoom range. When combined with Sony's full-frame images sensor, AF 35-150mm F2-2.8 FE delivers high image quality to the edges of the frame and contrast.
Fast and accurate AF performance
The lens adopted Linear Stepping Motor (STM), which is fast and highly responsive to both photographers and videographers. It delivers excellent focus tracking and smooth transitions, even with fast-aperture lenses, from the Minimum Object Distance (MOD) to infinity. Its fast maximum aperture also helps you control camera movement by allowing a higher shutter speed or reducing noise by choosing a low ISO. The system is compatible with Sony's Fast Hybrid AF, and Eye AF camera functions as in-camera lens corrections for shading, chromatic aberration and distortion.
Impressive background blur and bokeh with bright F2-F2.8 aperture
A large-diameter aperture of AF 35-150mm F2-2.8 FE presents an attractive background blur to the image's out-of-focus areas. Also, it effectively separates the subject from the background, using a shallow depth of field to capture a unique image in which the background is compressed. The lens employed 9 diaphragm blades, creating a smooth and gorgeous bokeh with light splitting.
Upgraded premium design and usability
Starting from the 2nd Generation lenses, Samyang is introducing the 'Hidden red ring' design that becomes the brand identity. The new design improves the look and usability by reflecting customer feedback, which especially enhanced both tactile controls of focusing and precise adjustments to focal length changes. A lock switch on the body helps customers keep the lens set at its shortest 35mm position and is useful for protection during travel.
Enhanced Functionality with custom switch & button
The two round buttons made of soft rubber have a focus save function which can store 2 points of focus. In addition, three custom mode switches on the lens can be pre-programmed via the optional Lens Station, allowing you to set up the mode to suit your preference.
Optimised features for video shooting
1) Digital Par-Focal: Digital Par-focal is specialised for video shooting as it can maintain focus on the subject when zooming in or out. Since this function is usually mounted in expensive cine zoom lenses, it provides a more special experience and results to customers who use this zoom lens.
2) Cinematic Video AF: When shooting video, the AF speed is more carefully adjusted than photo shooting, resulting in lower wobbling and highly stable movie shooting.
3) Linear MF Focus Control: Provides convenience to video shooters by matching the torque of the focus ring as closely as possible to that of a manual focus lens when shooting video in manual mode.
4) Dolly Zoom Shot: The Dolly Zoom is a powerful in-camera cinematic technique. A professional dolly can be expensive and challenging to operate, but this lens allows you easily take the dolly shot.
Weather-Sealing design
Considering the users' shooting environment, the lens is designed to be completely weather-sealed at the mount throughout the body. Weather sealing is adopted on 12 spots to prevent damage or contamination from dust, light rain and snow.
Short Minimum Focal Distance 0.33m (1.08ft)
The AF 35-150mm F2-2.8 delivers superior close-up shooting performance for an all-rounder zoom. At the 35mm wide-angle end, the MOD (Minimum Object Distance) is 0.33mm. Combined with the lens's fast apertures, it produces a unique perspective close to the subject while presenting a beautifully blurred background. Users can also take dynamic close-up shots at the 150mm telephoto end with a MOD of 0.85m. It makes taking portraits with exaggerated features easier, food on tables, etc.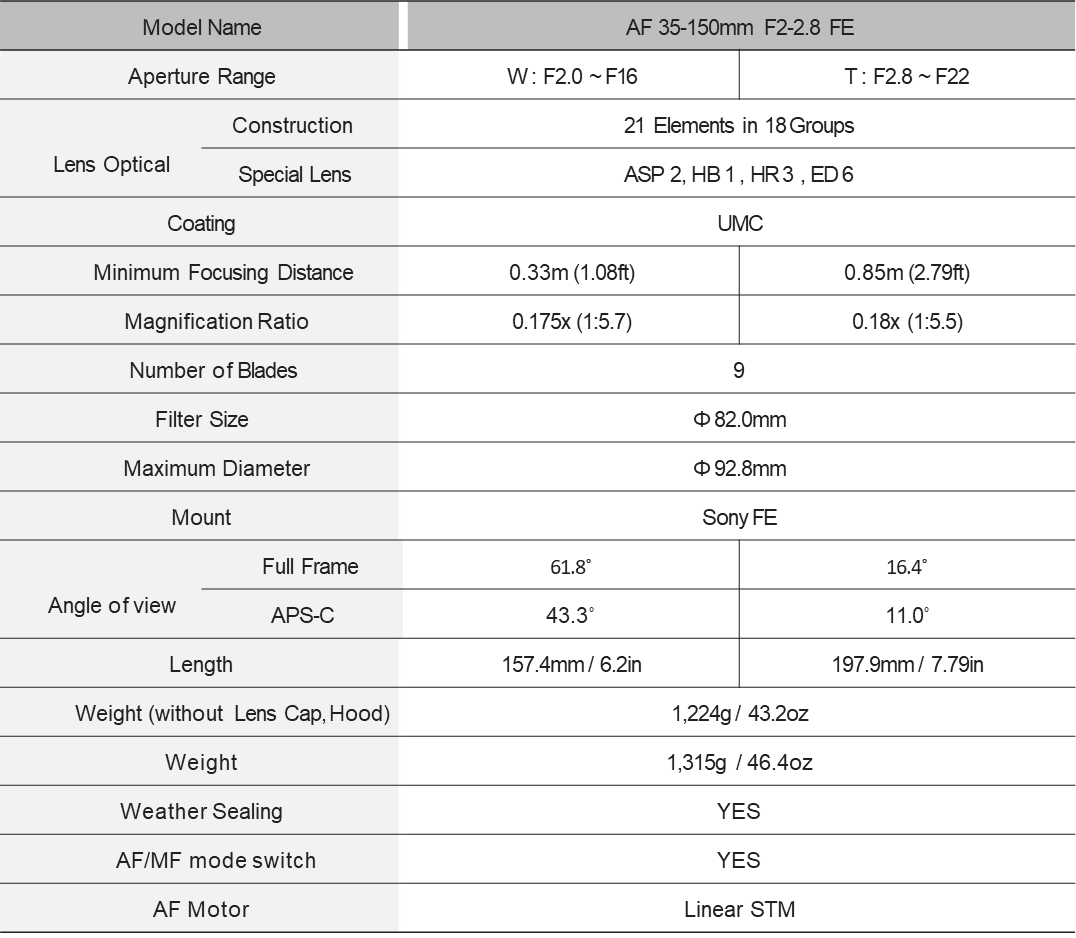 | | |
| --- | --- |
| SKU | 200692 |
| Barcode # | 8809298888688 |
| Brand | Samyang |
Be The First To Review This Product!
Help other Maxxum Pty Ltd users shop smarter by writing reviews for products you have purchased.