Samyang 35mm F1.4 MK2 Auto Focus UMC II Sony FE Full Frame
With excellent optical performance and a bright aperture F1.4, now you can fully capture colorful daily life!
The AF performance that is faster and more accurate than before with the adoption of the STM motor provides the best results not only for photography but also for video recording. In addition, the 'Custom switch' and 'Focus hold button' functions added to maximise user convenience will allow you to enjoy the fun of shooting. Meet the newly launched AF 35mm F1.4 FE MK2.
The 2nd Generation
Samyang Optics is renewing its Autofocus lens lineup to celebrate its 50th anniversary. Following the first renewal product, the AF 50mm F1.4 FE MK2, this time, the AF 35mm F1.4 FE MK2 renewal product is now announced. The AF 35mm F1.4 FE MK2 is the second edition of the AF 35mm F1.4 FE, and it is one of the lenses that has been loved by many people since Samyang released its first Autofocus lens in 2016. Lens standards are constantly changing and Samyang is launching this AF 35mm F1.4 FE MK2 lens as the most universal lens of all time. Some may consider that the market is filled with similar focal lengths already, however, Samyang has taken additional steps to innovate.
1. Excellent image performance even at maximum F1.4 aperture with beautiful bokeh
2. Fast, precise, and quiet AF performance
3. Professional control & upgraded reliability
Amazing Resolution - Sharp & Clear from Corner to Corner
The 2 ASP (aspherical) and 2 HR (high refractive) elements in this new AF 35mm F1.4 FE MK2 lens deliver stunning contrast and amazing resolution. Samyang's advanced coating technology maintains superb image clarity, even in challenging lighting conditions. The corner-to-corner sharpness is maintained even at maximum aperture, so optical performance is consistent at all exposure settings.
Faster, Precise, Quiet Auto Focus Performance
Samyang's Linear Stepping Motor (STM) provides the high-thrust efficiency needed for fast, precise, quiet AF and tracking, thus maximising the advantages of Sony E-Mount cameras. Compared to the previous AF 35mm F1.4 FE, this new AF 35mm F1.4 FE MK2 is optimized for not only photo shooting, but also video shooting by minimising vibration and noise. Tracking the subject accurately and quickly, the AF also operates quietly and smoothly when shooting video. Samyang's Linear STM satisfies both photographers and videographers with quieter and more accurate control of the focusing lens groups.
Extremely Narrow Depth of Field with Refined Beautiful Bokeh
The F1.4 maximum aperture of this new AF 35mm F1.4 FE MK2 lens makes it easier to capture clear images in low light, and amazing out-of-focus images. A 9-blade circular aperture design creates the stunning beautifully blurred background at a narrow depth of field. Its smooth bokeh and blurred background can make subjects stand out in images with deep dimensional impact.
Enhanced Operability & Reliability - Customisable Buttons
Important features of the AF 35mm F1.4 FE MK2 include: Customisable 1) Focus hold button & 2) Custom switch. Overall, this is a lens that meets professional requirements for control and reliability, for both stills and videos.
Custom Switch - There is a custom switch, which can be set to allow adjustment of the aperture silently by rotating the focus ring. Using the optional Lens Station, you can set up the mode to suit your own preference. More functions will be added through firmware updates in the future.
Focus Hold Button - Pressing this button on the lens will keep the lens locked to that focusing distance. You can assign functions such as Eye AF in settings on the camera body.
Short Minimum Focal Distance 0.29m
The minimum focal distance is just 29cm, making the lens even more versatile. It is possible to produce impressive close-ups, even capturing small details, at very close to the subject. With a short minimum focal distance and large aperture of the AF 35mm F1.4 FE MK2, you can get close-ups by highlighting the subject with a smoothly expressed background!
Modern Design & Weather-Sealing
The AF 35mm F1.4 FE MK2 has been developed and enhanced, taking into consideration not only the design but also the user's shooting environment. It has a stylish silver ring, matt finish, and weather-sealing (4 spots) which also protects the lens from light rain, snow, and dust.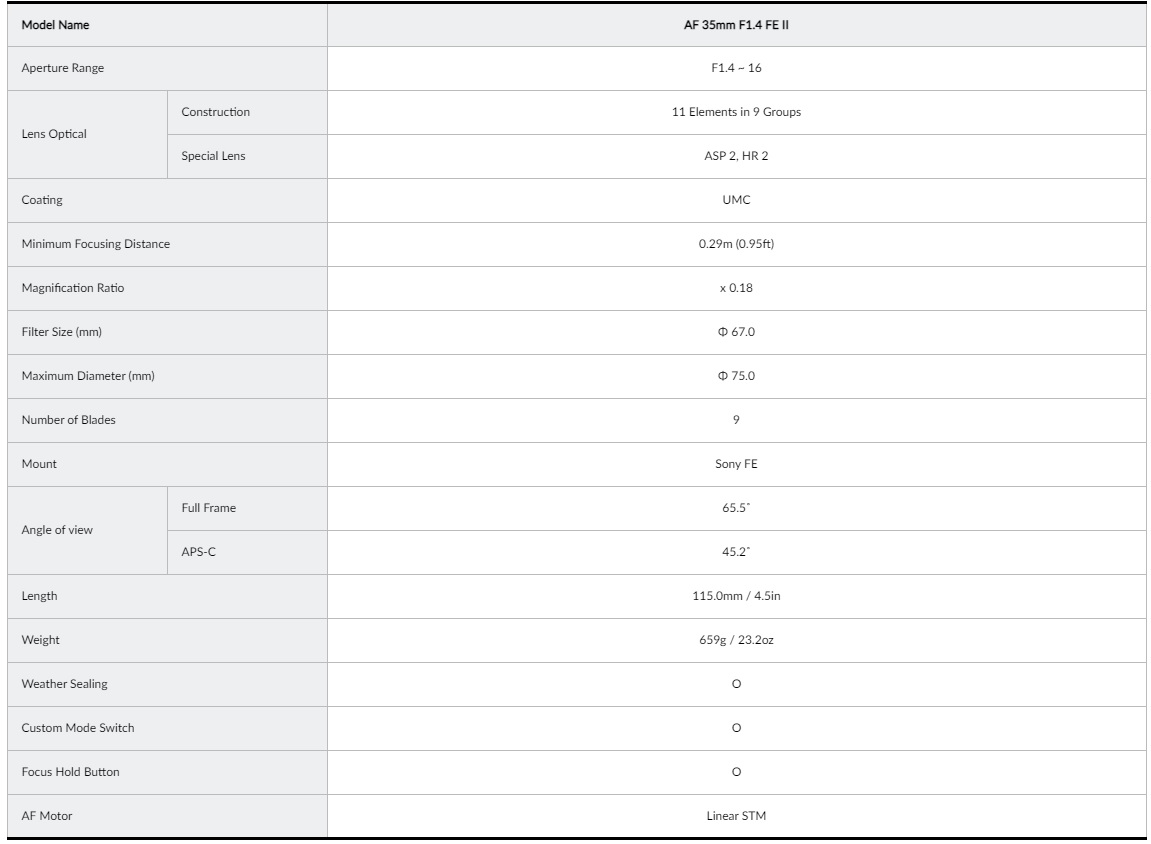 | | |
| --- | --- |
| SKU | 200687 |
| Barcode # | 8809298887940 |
| Brand | Samyang |
Be The First To Review This Product!
Help other Maxxum Pty Ltd users shop smarter by writing reviews for products you have purchased.