The Lowdown on the Loupedeck Live Editing Console
Author: Maxxum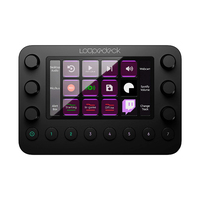 Launch yourself into an incredible editing experience with the all new Loupedeck Live.
The Loupedeck Live is the latest addition to the industry's creative editing consoles. Small and compact for easy editing on the go. This powerful device is a bargain at half the price of the Loupedeck CT with many of the same functions. While it has fewer programmable keys than the CT edition, it maintains functionality in most every other aspect.
Convenience on the go
Weighing in at just a quarter of a kilo, this lightweight console is perfect for editors to carry on the go. Perfect for the busy content creator who is always on the move. Easily transports and connects for quick editing.
Functionality
The keyboard is customisable and allows for you to configure shortcuts and commands frequently used to help you manage your stream with smooth transitions. The controls are comfortable and smooth to operate. The touch panel has an excellent touch-sensitive response rate with haptic vibrations that respond to your touch. The combination of touch controls, buttons and premium dials make this console an excellent choice for creators who prefer hands-on editing capabilities.
Seamless Compatibility
With its USB-C cable & connectivity, it allows you to connect to the older USB-A interfaces for a smooth transition. Compatible with Windows 10 and macOS 10.13 operating systems and up but will require you to download the software to configure and operate it. The software download is quick and easy.
Creative Software
Loupedeck Live supports a wide array of popular multimedia and photo editing software such as most Adobe CC applications, Shopify Premium, Cut Pro, Apple Final, Aurora HDR, Capture One and more! With the recent updates to the software, customisation of the console is quick and simple, out of the box.
Pre-set Profiles Included
Pre-made profiles are included for all supported applications. You can start livestreaming the moment you install Loupedeck on your system as it comes with preset profiles for popular livestreaming platforms such as Twitch, OBS Studio and Streamlabs. Live can be used with unsupported apps with some limitations but you will need to setup custom profiles to use.
Effortless Stream Control
Delivers effortless livestreaming to your audience for a powerful experience while allowing you to easily switch between scenes and sources. Perfect for recording gameplay during livestreaming, while giving you time to chat live with your audience.

Loupedeck Live allows you to customise your editing experience for a smooth and powerful experience at an incredibly affordable price. Perfect for content creators who are just starting out and for experienced creators alike.
---
Leave a comment